Chancellors CrossFit
Chancellors CrossFit is an internationally affiliated athletic training program based on constantly varied functional movements executed at high-intensity across broad time and modal domains. At the highest levels, elite CrossFit athletes are among the fittest people on Earth.
This page will serve to explain the CrossFit model in general, as well as our goal in implementing this model at STMA. We hope this will be a useful resource for both parents and student athletes who wish to participate in Chancellors CrossFit.
Please do not hesitate to contact the head coach and CrossFit Level 2 Trainer, Deacon Brad Watkins, with any questions.
Several STMA faculty members are CrossFit Level 1 Trainers and provide assistance during workouts, as needed:
Amanda Bambury
Doug Cottle
Charlie McCants
Dr. Jake Noland
Chancellors CrossFit At a Glance
We offer a (free) highly effective after school strength and conditioning program led by CrossFit Level 1 Trainers. This occurs everyday after school from 3:20-4:30pm. Please see the CrossFit Participant Information section below before attending your first workout.

In all that we do, there is a heavy emphasis on athlete safety through a focus on mechanics and consistency. Once these skills are well-established, intensity (heavier weight and speed) is added.

This program can be infinitely modified ("prescribed" or "scaled" - see CrossFit Participant Information for details) for all student and teacher athletes, as well as for parents, alumni, and virtual learners via our on-line Google classroom.

We offer constantly changing Workouts of the Day (WODs) to include the following (workouts will be available to view on the Google classroom the evening before for preparation purposes):

Metabolic Conditioning - aerobic WODs

Gymnastics - bodyweight WODs that include push-ups, pull-ups, sit-ups, etc.

Weightlifting & Throwing - using barbells or medicine balls

Playing Sports

Our goal is to become as proficient as possible in ten areas of physical skills or domains:

Cardiovascular & Respiratory Endurance

Stamina

Strength

Flexibility

Power

Speed

Coordination

Agility

Balance

Accuracy
A Word about the safety of CrossFit:
Given the potential for intensity in CrossFit WODs, there exists some public misconception that CrossFit is dangerous. Information about this false understanding is posted at the link below.
Can someone be injured participating in Crossfit? Yes, as they might performing any physical activity. Are there some CrossFit athletes and coaches out there dangerously (and pridefully) pushing the edges of safety? Yes, as there are in nearly every sport and physical activity.
After two full years of the CrossFit program at STMA, with dozens of student and teacher athletes performing daily WODs, there have been no injuries. During that same time frame, there were numerous serious injuries (broken bones, concussions, torn ligaments, etc.) in nearly every other sport offered at STMA. On the basis of these facts, participation in CrossFit is safer than participation in other sports at STMA.
Does CrossFit Cause Injuries? Debunking the Myth

:
https://thebarbellphysio.com/truth-crossfit-injuries/
Chancellors CrossFit Participant Information

- please read before you attend the first WOD!

What do participants need?
Participants need an up-to-date physical (uploaded to the rSchool website), a water bottle, athletic clothing and shoes.
When/Where are the workouts?
Workouts of the Day (WODs) occur everyday after school from 3:20pm to 4:30pm in the Upper Building.
An Important Note on Hydration
A normally hydrated individual cannot become dehydrated in the course of a 20-30 minute workout of the day, even when performed outside in high heat and humidity.
Sometimes student athletes confuse being hot for being thirsty, which can have negative or even dangerous consequences.
Drinking too much water during a WOD can easily cause an upset stomach. Worse, drinking too much water can lead to a condition called Hyponatremia, in which a person dilutes critical electrolyte levels, potentially causing life threatening heart problems, amongst other health issues.
Do I need to have CrossFit or other workout experience to participate?
No previous experience is required to participate. WODs can be physically demanding as "prescribed" (Rx) and can/should be "scaled" or partitioned as needed for each athlete.
What other information would be helpful before beginning Crossfit?
As with all sports, there are various terms used in Crossfit WODs. A general knowledge of them will be helpful and are described below. It will also be helpful to familiarize yourself with the general model of CrossFit as described in the various links and charts at the end of this page.

"Prescribed" is the term we use for workouts as programmed or designed for advanced or elite athletes.

The term "Scale" means to adapt "Prescribed" workouts in various ways to make them less advanced as needed. Examples of scaling:

"Knee push-ups" instead of push-ups with legs extended ("strict" push-ups);

Reduction of the total number of reps from 100 to 75 to 50;

Perform the movements at a slower pace and/or with a lighter weight or no weight.

The term "Partition" means to break up the amount of repetitions ("reps") into more manageable amounts (also called "broken"). An example of partitioning:

If a WOD calls for 100 push-ups and 100 sit-ups, the exercise could be broken down to complete 10 push-ups or 10 sit-ups at a time, with rest in between each set, until 100 reps or 10 sets of 10 reps have been completed.

In order to reach maximum performance potential, much emphasis is placed on athletes' sleep and nutrition.

At least 8 hours of sleep is suggested;

Nutrition is suggested to be comprised of meat and vegetables, nuts and seeds, some fruit, little starch, no sugar, and only enough to sustain muscle development and not fat.

You WILL be sore!

There is a need to distinguish between being sore from strenuous workouts and being injured. Some student athletes that have not performed demanding physical work before have confused muscle and joint soreness with being injured. We will regularly discuss the difference. At the beginning of every WOD, we ask if anyone has any injuries of which we need to be aware.

If you have a question or have an injury, please inform the coaches at the beginning of each WOD.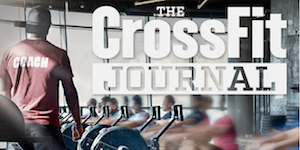 CrossFit Journal - What is Fitness?
What is CrossFit

?
Defining Crossfit: Functional Movements
CrossFit is designed to develop these 10 general physical skills

:
Theoretical Hierarchy of Development
*All images are courtesy of https://www.crossfit.com
View this post on Instagram